A very large female mastin has 'adopted' us. She has obviously been on the campo for a considerable length of time and is very thin. She is very wary of people but seems to get on with our own dogs. I have fed her, 2 meals a day, which she wolfs down. I don't want to feed her too much too soon it case it upsets her stomach. She is very quiet and looks really sad.
She is approximately a year old.
She is full of fleas and ticks but I can't get close enough yet do to anything about them.
Has anyone lost her?!
Photos below.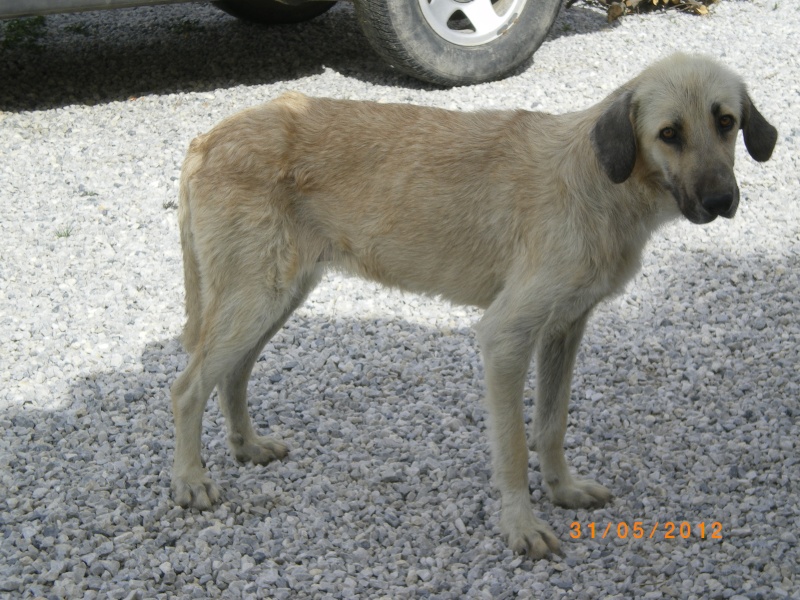 Cullarfamily




Posts

: 166


Join date

: 2010-05-05


Age

: 56


Location

: Cullar



She is gorgeous, well done for looking after her... Caroline

Mariposa




Posts

: 1111


Join date

: 2010-04-09


Age

: 56


Location

: Castillejar



What a lovely looking dog, but dont those eyes speak a sad tale. Hope somebody can put a sparkle back into them.
Update on our 'adoptee'. Some good news and some very sad news. Although still a little scared of people, she is getting better. Ticks and fleas almost a thing of the past. She is so quiet and docile. She 'grins' to say 'good morning'
. She's very loving and eats like a horse.
Now the sad news. Kathy came and spayed her yesterday - and diagnosed leishmania
. So next week starting a 4 month treatment of Allopurinol and we keep fingers & toes crossed that she responds. Kathy is quite optimistic.

Cullarfamily




Posts

: 166


Join date

: 2010-05-05


Age

: 56


Location

: Cullar



Seems a bit strange, Leish can only be diagnoised by a blood test and you have to know the levels to be able to have the correct meds, the quickest i have ever had results back is 5 days and another blood test is required a month after having the injections everyother day for a month...... Id get a second opinion if i was you...... The drugs to treat leish are expensive, and only needed for 30 days then its a revaluation, Glucantime injections, with Hepto Can and Zyloric ( Allopurinol ) are all to be given in the first month, Allopurinol can be purchased over the pharmacy counter Alot cheaper than the vets
Hope that helps
Last edited by HappyChic on Mon Jun 25, 2012 3:09 pm; edited 1 time in total (Reason for editing : Added info)

HappyChic




Posts

: 480


Join date

: 2010-04-02


Age

: 60


Location

: Benamaurel



Similar topics
---
Permissions in this forum:
You
cannot
reply to topics in this forum