I have just received a call from New2You. You will remember, they had very kindly offered to take in car boot items for sale for El Capricho.

This morning Debbie arrived at the shop to find a puppy tied to the lamppost outside. No food, no water and no indication as to how long he had been there. Only members of the cave forum knew their association with and offer to El Capricho. He was left wearing a collar attached to two leads and appears to be well fed and cared for until this point. He also appears to respond to English.

Abandoning him there is not acceptable and totally irresponsible, as well as illegal! Whoever left him there should be ashamed of themselves. Your behaviour is thoughtless, inconsiderate, and cowardly. It is also cruel. What if New2You had not returned to the shop for a few days?

I am waiting for a photo of the pup. In the meantime, every cage and kennel in El Capricho is full with 3 new abandoned pups in the last week. Can anyone help with a temporary or permanent home for this little soul?

Photos to follow...
Last edited by Cave Bunny on Thu May 05, 2011 3:27 pm; edited 1 time in total (Reason for editing : error)

Cave Bunny




Posts

: 833


Join date

: 2010-05-10


Age

: 49


Location

: In a cave, almost.



Shocking! and very sad if its a forum member.
Here he is...
]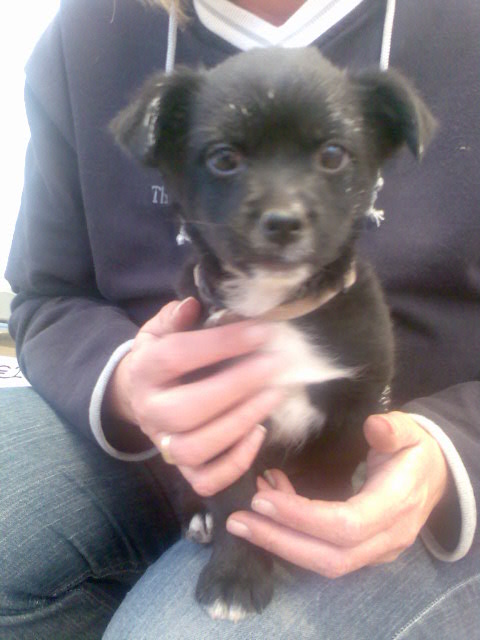 If anyone recognises him, I'd be grateful to hear from you.
DO NOT LEAVE DOGS OR PUPPIES AT NEW2YOU. This is a complete violation of Debbie's generosity and utterly disgraceful.

Cave Bunny




Posts

: 833


Join date

: 2010-05-10


Age

: 49


Location

: In a cave, almost.



He's fab. Who would do that?
Well, doesn't he look a little cracker!

I prefer to think? hope? that a forum member wouldn't have done this.

We now have 5 dogs (4 by default)... yes we have given in.. 'Shed dog'.. as we call her is off to be spayed tomorrow. She will herein be acknowledged as another fully fledged member of our family. Her persistance has paid off at long last! She has been 'hiding' (not very well) in Phil's workshop/shed since last November & two attempts at re-homing her have failed miserably. She is very ugly, very sweet and has a very waggly tail. She thinks Phil's shed is a palace (should have taken her to Specsavers) and sits outside sunbathing like the lady she is. She knows who is welcome, and who isn't and we can tell by her bark whether a visitor is friend or foe.
She will never be a 'house' dog, even though she does seem house trained, having never left a mess in her shed.. whoops sorry.. Phil's shed!

What I am trying to get across is, a dog doesn't necessarily need to live in the house. A dry wood shed, kennel or garage with daily contact with people that offer kindness, food & fresh water is all that some dogs need.

There has to be someone out there who could offer a home to this little chap.

Giving a home to an abandoned animal has its ups & downs, but I wouldn't change a thing!



Rosie




Posts

: 1027


Join date

: 2010-03-19


Age

: 34


Location

: Los Olivos



I dont dare let Carole see that picture, or hell be heading our way!
And by that I mean on the ferry to the UK. If we were in Spain full time, we'd be across at he animal centre tonight.
Sadly this one's sitting on his own in a cage at New2You tonight and likely every night til he finds a home.
Breaks my heart, but better that than tied to a lamppost in the torrential rain we had here today.

Cave Bunny




Posts

: 833


Join date

: 2010-05-10


Age

: 49


Location

: In a cave, almost.



How cute is that little chap but I too have two puppes (also by default) and couldn't take in another dog as I don't have a garden! I do hope that someone can take him in . Trouble is that there are so many abandoned dogs that there doesn't seem to be enough homes for them all. I do find it sad ( heartbreaking in fact) that these pups and dogs are seen as disposable as rubbish.

gilly




Posts

: 258


Join date

: 2010-03-22


Location

: Castillejar



The puppy, named Londres, is now housed in El Capricho until his forever home is found. He has had his vet check and first vaccination, and is in good health and is about 7 weeks old. He really is a sweetie and is pleased to see everyone.
Now to find a permanent loving home...he will of course be free to his new owner (although donations always welcome). Vaccinations and microchip are obligatory, and you are strongly advised to get him neutered at the right time.
Anyone interested in Londres can contact me by pm or El capricho directly.
http://elcaprichobaza.jimdo.com/
Last edited by Cave Bunny on Fri May 06, 2011 9:16 pm; edited 1 time in total (Reason for editing : sawdust head)

Cave Bunny




Posts

: 833


Join date

: 2010-05-10


Age

: 49


Location

: In a cave, almost.



Similar topics
---
Permissions in this forum:
You
cannot
reply to topics in this forum